Post by dora on Apr 10, 2021 17:40:22 GMT -5
Hi All, I have a 2019 KZ Escape E161RB trailer and thought I'd share a mod with you that provided me with way easier access to the storage underneath the dinette seats. I installed full extension drawers which pull out and are used for clothing or whatever else you may need. I then added doors that are stained to match.
Here's a few pictures of what they look like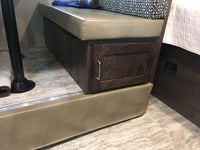 If you're interested in installing something like this yourself below are some helpful links and instructions.
This link explains how to first measure for the proper size opening to accommidate both the drawer size you desire as well as the drawer slides.
How to install full extension drawer slides

More info on drawer slides. I installed them on the sides.
Drawer slides Demystified
I learned a lot of how to do this by watching this excellent video created by a fellow RV-er.
Building underseat cabinets
Once I took numerous measurements multiple times over to be sure of the proper size I actually had my drawers made in maple from
Cabinet Now
Once I got the drawers delivered I put on 3 coats of water based this
Varathane Polyurethane
to makes sure they'd never warp. Seeings how I store my trailer all winter I'm sure it could become damp at times.
I also ordered the doors made from Ash wood from
Acme Cabinet Doors
. It's important that the doors overlap the drawer opening by at minimum 1/2" so making sure of the correct measurements is important here as well.
I ordered the doors in Ash wood since stain takes to Ash nicely, showing the wood grain through the stain unlike a maple or pine where the stain would look similar to paint.
Here are the 28" long full extension slides that I ordered
Full extension slides
. They're rated to hold 100 pounds of weight and slide in and out great. Of course my clothes don't weigh near that amount so no worries with overloading them.
These are the
rear mount brakets
for the slides to fit and secure to.
I can't remember but I think I drawers are only 25" in length to make sure I had plenty of room to work with within the 28" bracket length. I also used Gorilla glue to secure a piece of 1x4" polyed pine to the outside wall of the seat box and using my nail gun secured another piece across from it on the inside of the box. Then the rear cross member was attached to that using corner brackets. Cutting the cross member a hair long also helps to keep it in place while installing the brackets.
The MinWax stain color ebony is almost a perfect match for the existing cabinet material. After staining I then used the Varathane poly in a Matt finish to match it all up.
So hope this helps to maybe give you some ideas and possibilities for adding some extra easier storage of your own.